Virtual Health and Well-Being for HBCUs
TimelyCare is higher education's most trusted virtual health and well-being provider with a comprehensive suite of services designed to complement the campus health resources of Historically Black Colleges and Universities.
What Claflin University
Says About TimelyCare
Dillon Beckford
Assistant Dean, Executive Director of Housing & Residential Life & Student Conduct - Claflin University
Explore how TimelyCare helps to supplement the mental health resources that Claflin offers.
Helaine Hayes
Senior Staff Nurse
Hear how after hours and weekend support helps students get the care they need, when they need it
Dr. Leroy Durant
VP for Student Development & Services
Hear about the impact that TimelyCare has on retaining students, faculty, and staff.
"One of the Best Things We Could Have Ever Done"
As a small, rural, HBCU with a limited number of medical clinic staff and only one mental health counselor, Claflin University needed to find a solution to address:
Growing demand for mental health care to help students persist
Lack of broad access to diverse mental health counselors
The need to better support faculty and staff
Affordable crisis management and after-hours care
Beyond delivering mental health and medical support, Claflin and TimelyCare's partnership contributes to the school's culture of well-being, creating a healthier campus through a connected system of care.
Ready to Expand Access to Care?
2+ million
students served nationwide
5 minutes
average wait time for on-demand emotional support visit
48%
of TimelyCare visits are after hours or weekends
74%
of visits result in mental health improvment
53%
of students say they would've done nothing without TimelyCare
Creating a Healthier Campus for HBCUs
24/7 Support
50-State Coverage
Diverse Care Providers
Equitable Access
Continuity of Care
LMS + EHR Integrations
Culturally Competent Care
Research shows that a lack of representation in health care providers can lead to negative health outcomes. And, while a study from the Journal of Adolescent Health found that 40% of Black college students requested campus health services, only 11.7% of the campus counseling center staff across the country are Black.
With over 50% of our provider network identifying as people of color, TimelyCare is committed to offering college students, faculty, and staff a provider network that reflects the diversity of the campuses that we serve. And with TimelyCare's scheduled mental health and medical visits, students are able to select the provider they want to get the care that they need.
"There were many companies that we could have selected. TimelyCare just stood out. As one of its HBCU partners, we wanted to ensure that its services met the educational and cultural needs of our students. And, whenever we had suggestions for or made recommendations to them, they listened."
Whether students require medical care or mental health support, our Virtual Clinic offers on-demand care and scheduled appointments with a diverse network of carefully selected providers.

TalkNow

Scheduled Counseling
Psychiatry
Care Navigation
Self-Care Journeys

MedicalNow

Scheduled Medical Care

Health Coaching
Faculty and Staff Support

Peer Community

TalkNow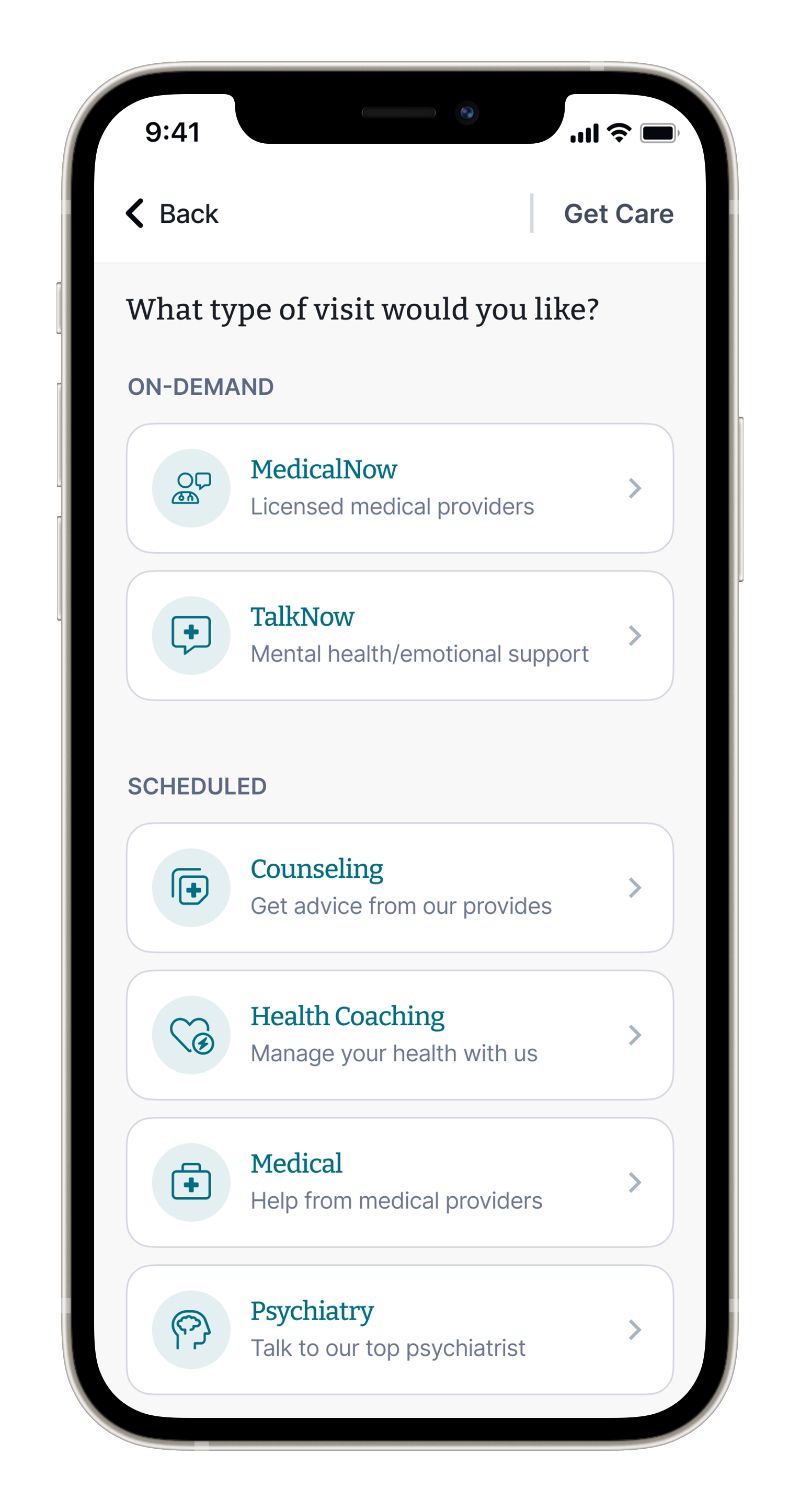 TalkNow
On-demand 24/7, mental and emotional support, health literacy guidance, and crisis management by masters-level behavioral health professionals.

Scheduled Counseling
Psychiatry
Care Navigation
Self-Care Journeys

MedicalNow

Scheduled Medical Care

Health Coaching
Faculty and Staff Support

Peer Community
A Proven Process for Success
Every campus is different. No matter what your students need, our programs offer the flexibility to build a virtual health solution that's best for your college or university.
Claflin University Students Share About the Need for Mental Health Resources on Their Campus
Hear how anxiety and other mental health issues impact students.
Explore a Virtual Health Solution for HBCUs
Our team of higher education experts is ready to talk with you about the challenges you face to support student health and well-being. Get the conversation started today.